IAB Europe has compiled key stats on the current stats of retail media advertising in Europe in this handy infographic.
What does the Retail Media opportunity in Europe look like? In this webinar, IAB Europe and Xandr unveil the results of a new industry survey that outlines buyers' views and use of Retail Media. The insights followed by a panel discussion showcase the opportunity of partnering with retailers and how retail media can be used to enhance digital advertising.
Watch the recording here.
Speakers:
Marie-Clare Puffett, Senior Manager, Marketing & Industry Programmes, IAB Europe
Miriam Thome, Senior Director Marketplace Development, Xandr
Nate Pinkston, Head of Account Management & Customer Success, PromoteIQ (Microsoft)
Alice Hawcroft Anson, Digital Media Director, Nectar 360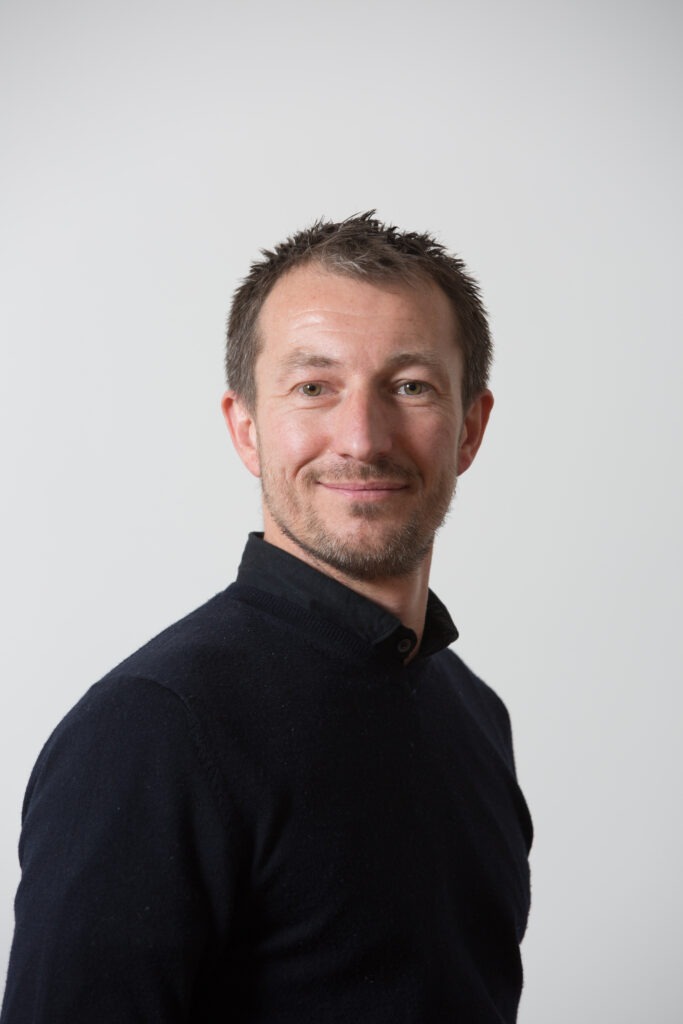 By Emmanuel Josserand, Brand, Agency and Industry Relations, FreeWheel
With high inflation and rising living costs likely to influence consumer spending patterns, how are marketers across Europe planning to respond?
AudienceXpress, FreeWheel's premium video media sales house, commissioned independent media research firm CoLab Media Consulting to conduct a survey to find out. Between 18 and 22 July 2022, CoLab surveyed 500 marketing decision-makers and influencers in the UK, France, Germany, Italy, and Spain (EU5).
This third edition of the survey aims to understand how marketers – advertisers and agencies – across the five European countries are adapting to the current market forces; how they are adjusting spending priorities and preparing for the year ahead; and what their predictions are on Advanced TV.
The results from this year's survey reveal that marketers are cautious but increasingly enthusiastic about investing in Advanced TV – which includes video-on-demand (VOD), Connected TV (CTV), over-the-top (OTT), and addressable linear TV.
Key takeaways:
• Two-thirds of marketers are looking to continue marketing spend to at least the same level as last year and not 'go dark' over the next 12 months
• Confidence in Advanced TV is high as 78% of marketers expect spend increase in these channels
• The rise of ad-supported VOD platforms has generated much interest: 89% of marketers intend to augment their spend in these channels
• Half of marketers are satisfied with their current level of spend in Advanced TV, while 45% would like to increase these budgets
• Data targeting and ad effectiveness are the main drivers of Advanced TV spend growth in 2022
From optimism to caution
Present economic and geo-political concerns have created a lot of uncertainties which have impacted last year's return to optimism. As a result, 35% of marketers surveyed are expecting their overall marketing budget to decrease. However, 65% of respondents are still looking to continue their marketing efforts to at least the same level as last year and not 'go dark' during this difficult time.
These forecasts can differ depending on industry sectors and, of course, the region. Where UK marketers are rather pessimistic, in France, a greater proportion of marketers surveyed expect uplifts in spending, rather than decreases.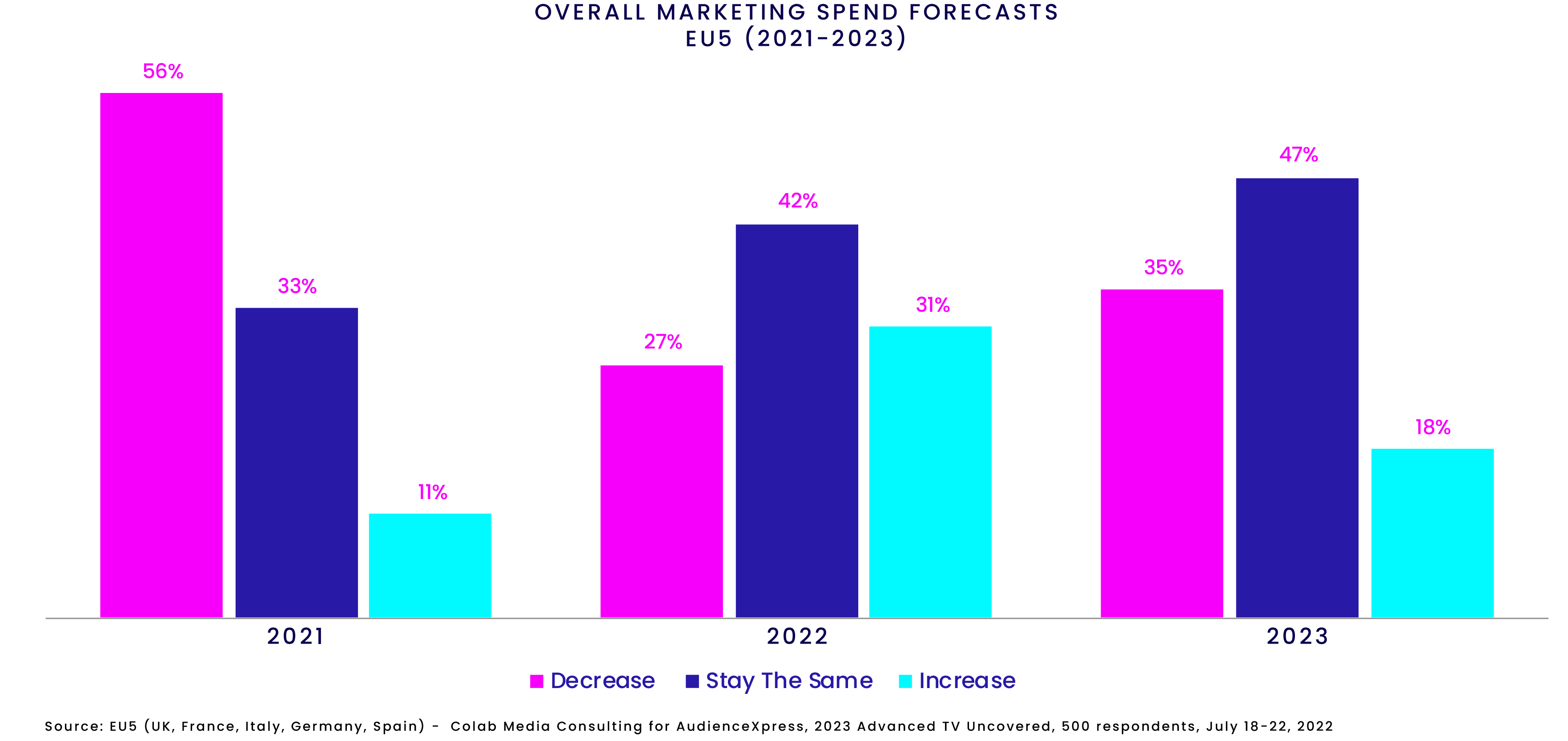 Customer acquisition is marketers' top priority for the year ahead
As with the previous two years, the EU5 marketers surveyed remain focused on upper funnel metrics such as acquiring customers, which is now the top marketing priority for 38% of EU5 respondents. In line with these upper-funnel priorities, 41% regard reach as the number one driver for marketing success.
There is a notable difference between agencies and advertisers, however, when it comes to key priorities for the year ahead. Agencies seem more focused on customer retention and nurturing brand loyalty than advertisers. With inflationary pressure kicking in, loyalty and retention will potentially become a vital business metric moving forward.
Optimism for Advanced TV is on the rise as 2023 approaches
Confidence in Advanced TV channels appears to be accelerating in the five countries studied, with 78% of respondents expecting to increase their Advanced TV budgets in the next 12 months. In comparison, the previous survey conducted in 2021 found that 73% of participants were planning to boost investment in these channels. Present satisfaction levels with Advanced TV spend also point towards growth, as 45% of EU5 marketers surveyed would like to see their organisation invest more in these channels.
Further education about Advanced TV is paramount
With the first signs of a recession hovering over the economy, marketing budgets are once again under scrutiny. It is no surprise, therefore, that ad effectiveness is seen as the biggest driver of Advanced TV ad spend.
When it comes to defining which factors are inhibiting spend, advertisers and agencies. are split. For the advertisers surveyed, a lack of awareness around Advanced TV is the biggest barrier to unlocking further growth (25%); while for the agencies who took part in the study, 26% rank a lack of willingness to experiment with Advanced TV channels as the most significant inhibitor to spend.
AVOD and FAST to see continued investment
The past 12 months have seen a significant growth in ad-supported video-on-demand (AVOD) and free ad-supported streaming services (FASTs) with the proliferation of platforms, and new hybrid models coming into the market. As a result, almost nine in 10 marketers surveyed say they intend to raise their investments in AVOD and FAST channels.
At a time of economic uncertainties, marketing budgets are often under much pressure. However, it seems that businesses are staying mindful of the commercial benefits that come from marketing through economic downturns. Continuing to meet marketers' demand for advanced technological capabilities, such as data-driven and audience-based targeting, will drive additional growth.
These insights also demonstrate the need to further raise awareness about Advanced TV channels, as well as prove the benefits of adopting them.
You can download an Infographic on the Pan-European results below. For additional info about the survey and country specific results, please click here.
Advanced TV definition:
In the survey we defined Advanced TV as any of the following types of TV advertising:
• VOD / Video on Demand (incl. BVOD – Broadcaster Video On Demand) (i.e. advertising around a programme that has previously aired on linear TV. (B)VOD can be targetable)
• Connected TV / OTT (i.e. ads appearing in smart TV apps, external devices – AppleTV, Amazon Fire, gaming consoles, etc – or Operator Set Top Box and log-in streaming apps)
• Addressable Linear TV (i.e. linear TV advertising that, through the use of data, can reach consumers at the household level)
Methodology
This research was conducted by independent media research firm CoLab Media Consulting between 18 and 22 July 2022. Commissioned by AudienceXpress, FreeWheel's premium video media sales house, the study aimed to understand how advertisers and agencies across five European countries (UK, France, Germany, Italy and Spain) are adapting to the current market forces; how they are adjusting spending priorities and preparing for the year ahead.
About AudienceXpress
AudienceXpress allows marketers to connect directly with major TV and digital video providers across all screens and formats while providing access to FreeWheel Media's services. As a premium video media sales house, AudienceXpress enables buyers to purchase premium TV and video advertising on an audience basis across all platforms, including connected TV (CTV), digital publishers, and video-on-demand and streaming platforms (AVOD), and digital publishers. Empowered with high quality audience data, marketers can achieve better, more accurate campaign planning, measurement and optimisation in near real time.
About FreeWheel
FreeWheel, a Comcast Company, is one of the industry's most complete advertising management solution. Purpose built for the New TV ecosystem, we enable our collective client base across all key industry segments to manage and monetise their premium video inventory in the brand safe ways they require. Our offerings work in synchronised tandem to meet every aspect of our clients' business needs across all screens, data sets, and monetisation channels, while providing the full safety, compliance, and control the New TV ecosystem demands. With offices in New York, San Francisco, London, Paris, Beijing, and across the globe, FreeWheel stands to advocate for the entire industry through the FreeWheel Council for Premium Video. For more information, please visit www.freewheel.com, and follow us on Twitter and LinkedIn.
This September, IAB Europe has been hosting a series of virtual events to discuss and debate trust and transparency in the digital advertising industry. A lack of transparency and accountability will cause notable friction in any value chain, especially in digital advertising. Our series of events will discuss what's currently being done and what else needs to be done to ensure a sustainable future.
In this Trust and Transparency Industry Insider, Verve Group took over!
Whether it be adhesive tape or ad-tech, transparency matters. What used to be implied as clear enough for anyone to see, the principles of transparency have become more scrutinized in our sector. In this presentation, Verve Group addresses the obvious, and not-so-obvious, applications of transparency in the places where it is seen–and needed–most. What's more, the Verve Group team provide discussions through both international and North American lenses so there is an understanding of where transparency is–and where it is needed.
Speakers:
Alan Ngai, Director of Product Management, Verve Group
Alexei Moltchan, Director of Product Management, Verve Group
Watch the first webinar in this exclusive MIXX Awards Europe 2022 Winners series here.
The webinar dives deeper into the campaign that won Gold in the In-Gaming category of the 2022 MIXX Award Europe. Gameset and Erbud share details of their successful in-gaming recruitment campaign. This was the first metaverse employer branding campaign in Poland and probably Europe. By bridging the gap between offline and online worlds, ERBUD and Gameset created a virtual space replicating ERBUD's flagship project – revitalized Hala Koszyki in Warsaw, the most important social hotspot in Warsaw. This novel idea of a construction company entering esports and gaming influenced the image of ERBUD and brought real benefits – over 11 candidates competed for a single internship position, which was a record-breaking number and a fourfold increase compared to 2020.
The European digital video market is seeing rapid growth. In Europe, it now commands nearly 40% of all display spend and is the fastest-growing segment within social. Innovations in this space, such as advances in video quality, mean that this growth will likely continue at speed.
However, the market is highly fragmented by factors including media consumption habits, regulation, and media trading cultures. There is also a lack of research into formats and the factors affecting buying decisions in the online programmatic video space.
Additionally, and as with other forms of digital advertising, identifying and measuring audiences across screens and touchpoints is becoming more of a challenge as platforms and services proliferate and the depreciation of cookies takes its toll. Any solution to this challenge will need to win the trust of consumers if it is to be fit for purpose.
Given the complexity of the digital video market, in December 2021 IAB Europe and PubMatic invited advertisers and agencies to take part in an industry survey. In doing so, we hope to further the understanding of online video formats and the factors influencing buying behaviours across Europe.
The survey attracted respondents who command significant volumes of advertising supply and demand.
Below is an infographic summarising the key findings. Download the full report at the bottom of the page.
IAB Europe's Chief Economist, Dr. Daniel Knapp, provided a deep dive into the trends, developments, challenges and opportunities in digital OOH for advertising including a global and local perspective.
Members can access the event slides recording and content by logging in and scrolling to the bottom of this page.
This edition of the Forum was hosted on 25th February.
IAB Europe's Economic Trends Forum offers market analysis and industry insights for our corporate members and network of National IABs. Every 8 weeks, a webinar or face to face event will be hosted. Free for members to attend, each forum will focus on a different industry topic with a detailed analysis of the marketplace.
IAB Europe's Brand Advertising Committee conducted a survey in November 2019 to ask industry experts for their views on how brand safety has been tackled in 2019 and determine what action needs to happen in 2020. Whilst there are lots of studies which look at consumer views, the BAC wanted to find out what is actually happening from the advertising industry experts.
The results highlight how seriously the industry is taking brand safety, and show how the ecosystem has changed in the last couple of years to place more emphasise on ensuring brand safe environments.
Key findings include:
The results reveal that brand safety and privacy remain priorities, with 77% of respondents saying that brand safety was a key priority.
57% of respondents agreed that brand safety was more of a challenge than in previous years, citing increased understanding and knowledge of brand safety by advertisers.
When outlining how the buy-side protected against brand safety concerns, the Brand Safety Poll indicates that blacklists and keyword targeting remain the dominant methodology.
A common theme within the Poll was the ongoing need for industry education, with wider discussion about solutions, differences, options, further education and knowledge exchange cited as important in 2020.
IAB Europe members can login to access the report below. 
We have compiled key stats on the state of digital audio advertising in Europe
 in the following simple and easy to digest infographic:
The below infographic highlights some of the key findings of the 2019 Human Capital in the Digital Environment report which can be downloaded here.
For more information please contact Alex Macarescu
The latest IAB Europe Programmatic Ad Spend Report  reveals that programmatic revenue grew by 33 percent in 2018, topping €16.7bn, with more than 70 percent of display and more than 50 percent of video now traded via programmatic methods. Social media buying dominates programmatic, but when this medium is removed the market saw impressive growth of 26.6 percent, to a total of €5.5bn.
Members can login at the top of the page to access the report. Non-members can register to download the report.