In this week's Member Guest Post we hear from Chris Costello, Senior Director of Marketing Research at Skai. He dives into what difference was seen across the two Prime Days that took place in 2022 and what happens when it's no longer a "singular" event.
Amazon Prime Day has been an event that always attracts both shoppers and advertisers in large numbers for years. As a singular event, once a year, it typically yields advertiser spending at three to four times the daily average for the month running up to the two-day online sale.
So, what happens when it is no longer a "singular" event?
Prime Day Early Access 2022 results
In 2022, we had a second Prime Day event for the first time, spanning October 11 and 12. Sandwiched between the first Prime Day—maybe call it Prime Day Prime?—and the holiday season, the nominal goal of the new event is to help jumpstart holiday spending well in advance of Thanksgiving weekend. To some extent, that was what happened in 2020 when the initial event was pushed back because of the COVID-19 pandemic.
With marquee events on either side of the Amazon Prime Day Early Access Sale, as it was officially called, advertisers and consumers could be forgiven if they didn't respond quite as strongly. Compared to the 4X increase in advertiser spending for the first Prime Day in July, compared to the previous 30 days, the October version only saw an average spending increase of 2.8X.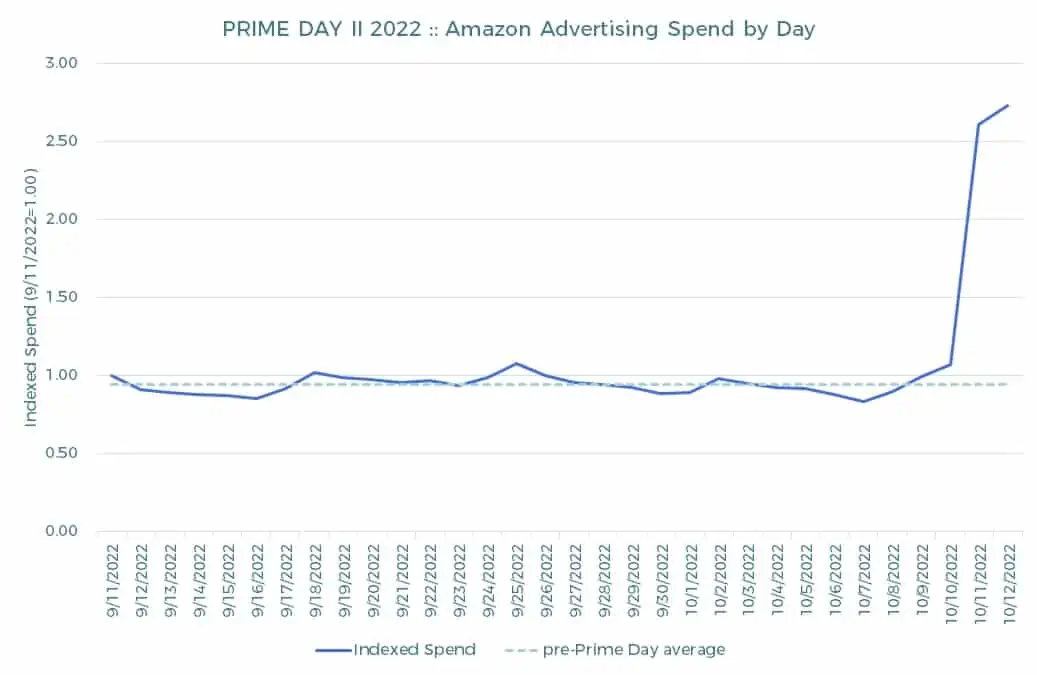 One constant across both the two events this year and the Prime Day event in 2021 is the premium on ad prices. The average cost per click (CPC) across the October Prime Day was up 56% compared to the average for the 30 days beforehand. By comparison, CPC increased 50% in July and 53% for the 2021 event in June.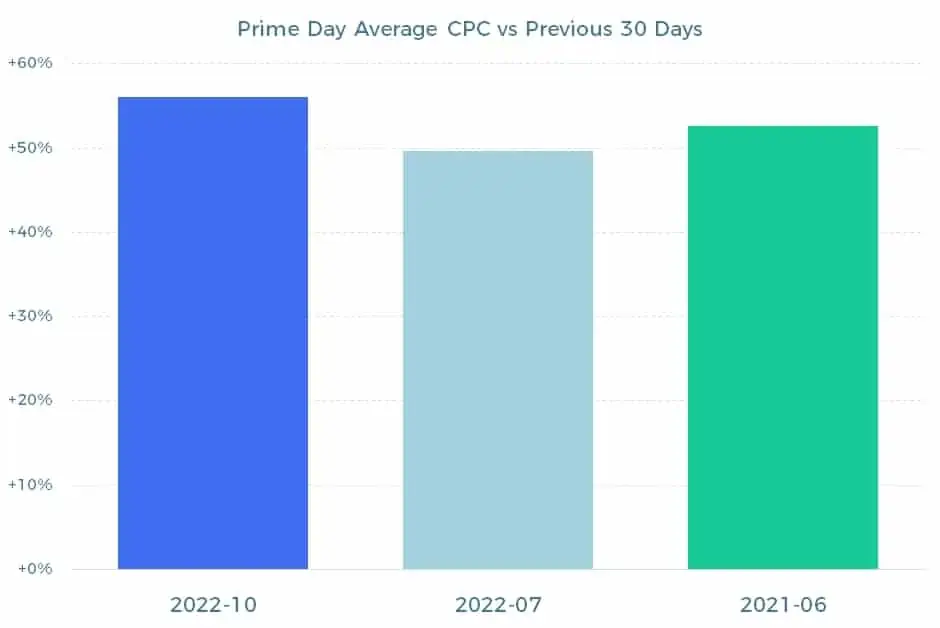 This means that the spending difference resulted from a smaller increase in click volume this time around. While it would be easy to point at the macroeconomic environment, it should also be noted that consumers do not have an inexhaustible supply of dollars to spend even in the best of economies, so competing with a similar event just three months ago was always going to be a very high bar to clear. Overall volumes, whether spending, clicks or sales revenue, were down compared to that event by 30-50% depending on the metric.
When we look at ad-driven sales revenue–how much Prime Day advertisers made in product sales–the increase over the previous 30 days was 2.9X.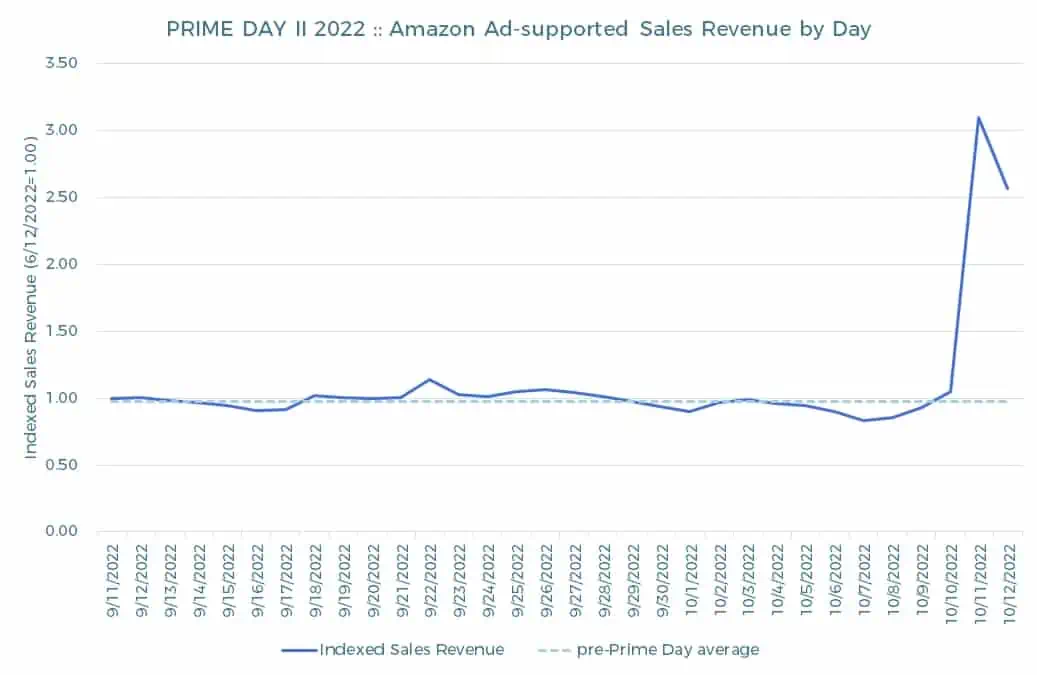 If you're doing the math at home, that makes the October Prime Day effectively neutral with regard to Return on Ad Spend (ROAS), up just 3%. By comparison, sales revenue in July increased 4.5X, resulting in a ROAS bump of 12%.
As we have come to expect, Computers & Consumer Electronics continued to dominate Prime Day, even in October. Spending increased 6.6X over the previous 30 days, and sales revenue grew 5.2X, making this event more purely about sales volume than ROAS this time around for the category. Other strong showings came from Hobbies & Leisure (3.5X spending increase) and Home & Garden (4.1X spending increase).
On balance, the Amazon Prime Day Early Access Sale 2022 ROAS took a bit of a hit for most individual categories, but a sales volume strategy can be just as compelling, as evidenced by previous Prime Day performances from categories like Beauty & Personal Care. Considering some of the inventory issues that have been reported as supply chain issues have convulsed over the last year, Prime Day may have ultimately been effective in clearing the decks, and the warehouses, as we prepare for the holidays.
For more information on Skai and its Retail Media Solution visit its website here.